Blanket
"Blanket"
Details

Item Type

Functional Block

Crafting Grid

Crafting Table

Tradeble

Stackable

Damage Profiles
See Also
A Blanket is an item in Cube Life: Island Survival.
The blanket may be crafted using three Feathers and three Stuffed Leathers. It's primary use is as an ingredient in crafting the Bed.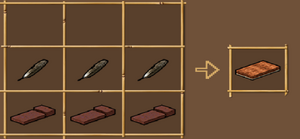 Item Matter
The blanket was added in Version 1.3, and received a sprite update in Version 1.6.