Overview
[
]
A Blanket is an item in Cube Life: Island Survival.
Usage
[
]
The blanket may be crafted using three Feathers and three Stuffed Leathers. It's primary use is as an ingredient in crafting the Bed.
Crafting Grid
[
]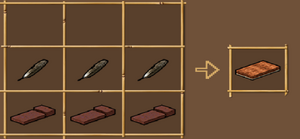 Item Matter
History
[
]
The blanket was added in Version 1.3, and received a sprite update in Version 1.6.
Trivia
[
]