B02
Global Map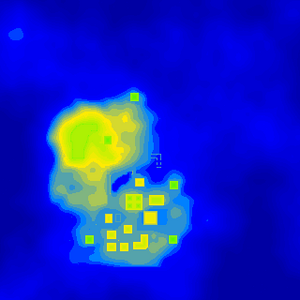 Map Type: Native Island
Cannibals Come at Night:

Overview
[
]
Map sector B02 is an island with a village occupied by Natives. It is home to the Rabbit Mage. The village also has a Trader that sells items for Pearls.
Animals
Marine Animals
Natives
Resources
Plants
Gallery
History
[
]
This island was added in Version 1.2.
Trivia
[
]
This island's Trader has a chance to sell the following items (item stock changes at midnight):
Item
Cost (Pearls)
Banana (x8)
1
Banana (x15)
2
Bed (x3)
15
Bobber
2
Clownfish (x5)
1
Emerald (x3)
1
Emerald (x4)
2

Golden sword

10

Green sea grass

(x1)
2
Red sea grass (x5)
1
Red sea grass (x10)
2
Ruby (x2-3)
1
Ruby (x4-5)
2

Ruby block

(x1)
7

Silver leggings

11
Silver Sword
10

Spike of wheat

(x3-4)
1
Spike of wheat (x5)
2

Stone sword

4

Tortoise shell

(x2-3)
3